Since our inception in 1994 we have donated over $10 Million to non-profits and ELCA missions throughout the valley. Our motto:  "God's Work – Our Hands"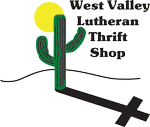 Our Mission Statement: In gratitude to God and love of neighbor, our mission is to operate a Thrift Shop that will provide financial support for area Non-Profit Organizations and material assistance for families and individuals.
We make donations to organizations after a formal Grant Application Process.
2021-22 Beneficiaries
A New Leaf
Alleluia Lutheran Church
ALOMA
Apostle's Lutheran Social Ministry
APECA
Benevilla
Billy's Place
Cross of Glory
Dysart Community Center
Grace Lutheran Church
Grace Outreach Team
Grand Canyon Synod of the ELCA
Habitat for Humanity
HART Pantry
Hope Church
Life Discovery Ministries
Lutheran Social Services of the Southwest
Mosaic of Phoenix
Navajo Lutheran Mission & Water Delivery Project
New Life Center
North Valley Christian Academy
OHANA Family Homes
Operation Enduring Gratitude
Pan de Vida Lutheran Church
Phoenix Lutheran Youth (PHLY)
Retired Lutheran Pastor's Retreat
Ryan House
Shepherd of the Desert Youth Program
Soldiers Best Friend
Spirit in the Desert Retreat Center
St. Paul's Roof Repair
The Clothing Shop
West Valley Community Food Pantry
Young Life Capernaum
Young Life Peoria/Northwest Valley
Young Life Surprise
Youngtown Community Fund